GT2259 Turbo Upgrade - Part Two
I posted this on 4BTSwaps.com, and thought I should share it here, as well:
I thought I should share some photos of the work in progress. This has taken a lot more time than expected. Isn't that always the case, though?
First, here's a side-by-side comparison between the GT2259 and the 4BD1T's stock (non-wastegated) turbo. The compressor is noticeably larger on the GT2259.
The turbine looks tighter on the GT2259.
I wound up pulling the exhaust manifold and trial-fitting the turbo on the bench. I thought I might have to do some trimming, but my homemade adaptor gave me enough standoff that it wasn't necessary. The left side in these photos is up when mounted on the engine. I didn't like having the wastegate hose that close to the manifold, or having vent/drain hole on the wastegate valve pointing upwards, so I flipped this assembly.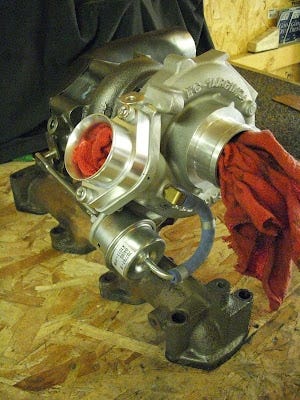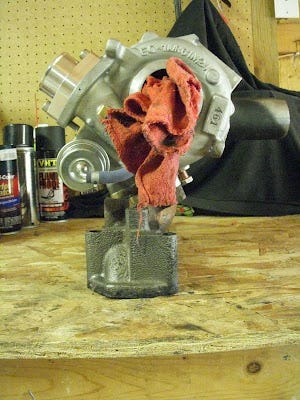 Here's the manifold back on the engine with the adapter installed. This is simply a pair of Ebay T3 Flanges welded back-to-back at 90 degrees, with some grinding to blend the edges.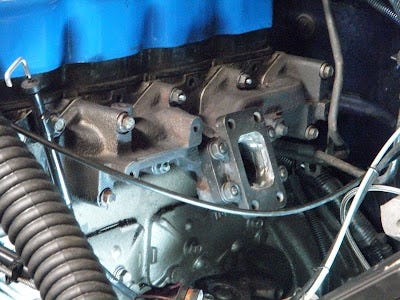 Here's the intercooler I've hung behind the bumper, below the radiator. It's an MR2 style, small in frontal area, but 4" deep. I'm working on cutting a hole in the bumper to get air to it. I'm also going to add a duct to ensure air goes through the intercooler, rather than around it.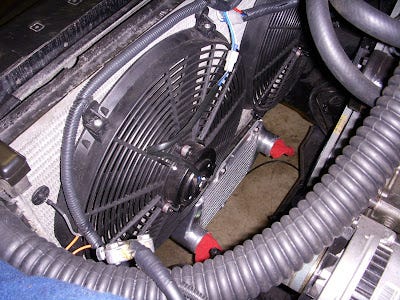 After the hours I put into it on Monday, I thought I'd be done, but I've still got to at least cut the bumper hole and run my intercooler pipes before I can drive it. Perhaps tomorrow night I can get it together.